Welcome to New Testament Missionary Baptist Church!
Moving from Membership to Discipleship
Our Mission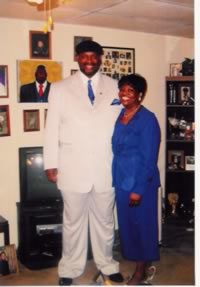 Bernard A. Willis, Jr.
Senior Pastor
The New Testament Missionary Baptist Church is a unique body of believers created by God, united by His Son, Jesus Christ, and indwelt by the Holy Spirit. Our purpose is to worship and glorify God and to reach out to individuals and families in the community, the city, and the county with the Gospel of Jesus Christ.
Our Aim
To the weak became I as weak, that I may gain the weak. I am made all things to all men, that I might by all means save some.
I Corinthians 9:22
Our Church Motto
For where two or three are gathered together in my name, there am I in the midst of them.
Matthew 18:20
Our Church Vision
To be doers of God's Holy Word, by speaking His Word in all our circumstances, by edifying one another in unconditional Christian love. To provoke one another unto to good works in a multicultural church.

I therefore, the prisoner of the Lord, beseech you that ye walk worthy of the vocation wherewith ye are called, with all lowliness and meekness, with longsuffering, fore bearing one another in love, endeavoring to keep the unity of the Spirit in the bond of peace.
Ephesians 4:1,2,3
Our Pastor Rev. B.A. Willis' Christian Experience
Our Pastor, Rev. Bernard A. Willis, Jr., often called the "gentle giant" by his preach brethren, is the oldest son of Deacon Bernard A. Willis Sr. and is a loving husband married to Jacqueline R. Green for 25 blessed years. They have been blessed with two beautiful children, Naomi Nicole Willis and Timothy Daniel Willis.
Rev. Willis grew up here in San Antonio as a member of Jacob's Chapel United Methodist Church. He accepted Christ at an early age.
Immediately after marrying Jacqueline, they set forth as man and woman looking for a church home, understanding that if their marriage was going to stand the test of time, Christ must be in their lives.
In 1981, on a New Year's night, Bro. and Sister Willis attended a watch night service at Bethany First Baptist Church, which at that time services were being held in the Ella Austin Community Center.
On the following Sunday of the New Year they attended a morning service at Bethany and became members. Bro. Bernie was soon baptized by Dr. Benson at Mt. Mariah Baptist Church in 1982 and, in 1988, he was ordained as a Deacon of the church. In 1992, The Holy Spirit moved on the heart of Bro. Bernie to move on to Good New MBC where he announced his calling to the ministry in 1996.
In 1998, he was invited by Deacon William Lank and the pastoral search committee of New Testament to preach every other Sunday. Soon afterwards, and after much prayer, the committee asked Rev. Willis if he would become their fifth Pastor of New Testament.
Looking back at his Christian experience, having joined Bethany when it was only two years old and later joining Good New on its Second anniversary, Rev. Willis realizes that God was preparing him all along for the job at hand here at New Testament.
In his own words, I will forever be thankful to God for Dr. Benson and Bishop K. W. McIntyre for the roles they both played in my life.
Meeting Times
Sunday School...........................................................9:30 a.m.
Worship Service.......................................................11:00 a.m.
Wednesday Bible Study.............................................7:00 p.m.
Friday Night Brotherhood & Discipleship Training......7:00 p.m.
Saturday Morning Youth Hour of Power (BTU)..........11:00 a.m.
New Testament Home | Genesis | What We Believe | Church Ministries | Contact Us